Wallmer is a simple and safe crypto platform for seamlessly storing, exchanging, and tracking your cryptocurrency while maintaining total security and privacy. We have created a versatile and user-friendly ecosystem for convenient control of your crypto life. Wallmer has no access to your assets and doesn't keep or share personal data.
An All-in-one
crypto platform
is right here
Wallmer is a crypto platform that was designed as a solution based on the personal pain points of our developers' team, their friends, and acquaintances. It's simple, easy, and highly convenient for daily use. Let's talk about a couple of great features Wallmer has to offer.
Portfolio Tracker
One of the Wallmer platform services we'd like to introduce first is convenient Portfolio Tracking. The seamless connection of all your existing wallets, addresses, and exchange accounts gives you the opportunity to appraise all your crypto more clearly. Visualized data on a unique Dashboard saves precious time and helps our users see the big picture, analyze, form, or adjust their crypto strategy accordingly. 
Main features :
A clear overview of your total portfolio balance, and total profit/loss since you started investing or in the last 24 hours. 

Live stream of the trending coins on a Dashboard.

Total asset value turned into a historical graph for easier accessibility and analysis.

Asset allocation is shown in percentages, the number of coins, or the price.

Possibility to track your balances across all exchanges and wallets.

Display of your holdings based on the asset, which simplifies finding where exactly it is placed.

Ability to set up personal alerts for each individual coin and stay ahead of the curve.
Wallmer Portfolio Tracking is an easy, safe and transparent way to gather and watch your assets in one place.
Decentralized Web3 Wallet
Wallmer Wallet is a decentralized solution than goes beyound non-custodial storage capabilities and takes a comprehensive approach to privacy and usability.
Top features:
Built according to security guidelines

No KYC needed

No user data is stored

Supports an unlimited number of multi-coin wallets

Full transaction history tabs

Simple login with your email and password
Our multi-chain non-custodial wallet is the best option if you're looking for Bitcoin, Ethereum, Litecoin, Tron, Binance Chane and Solana wallets. The single wallet to store all your crypto assets.
With Wallmer wallet it's easy to make instant transactions anytime, whenever you are.
Decentralized all-to-all Exchange
Wallmer Exchange is a cross-chain coin exchange with a large volume of supported cryptocurrencies. It allows you to make instant swaps without leaving the platform. The service is free of registration and provides unlimited swaps at good rates. 
Maximizing User Privacy and Convenience with Our Top Features
At Wallmer, we believe in protecting our users' personal information and giving them the freedom to transact without any restrictions. That's why we've designed our platform with these top features:
Anonymous Transactions:

No personal information is required to use our platform.

No Limits on Transactions:

Whether you want to buy or sell a small or large amount of crypto, Wallmer has you covered.

Competitive Rates:

Our platform selects the most profitable exchange rates and offers them to you.

Zero Fees and Minimal Price Slippage:

We strive to provide the best exchange experience for our users by offering zero fees and minimal price slippage.

Fast Confirmations:

The waiting time for your transaction depends solely on the confirmation time within the blockchain network.

Fully Automated Exchange Process:

Our platform offers full automation of the exchange process for a seamless experience.

Cross-Platform Compatibility:

Wallmer is available on any browser or device, making it easy for you to access and transact from anywhere, anytime.
As well as many other cool things! Stay tuned!

Safe & Simple
Crypto Platform
for Everyone
When people hear the word "cryptocurrency" they immediately think of something complicated and inaccessible. For many of them, crypto is akin to flying to Mars. Only a few understand the future potential of digital funds and are ready to navigate through the unknown.
So, our team started to think –  why does it have to be so confusing and complicated?
Can the blockchain environment become equally friendly for a schoolboy, a graduate of the philology faculty, and a buddy Joe? How to make it happen?
That's when we came up with the BIG IDEA of combining basic and most essential functionality, needed by both – beginners and crypto enthusiasts, to easily operate in the world of crypto. 
And that's how the three "S", on which the entire platform development is based were established.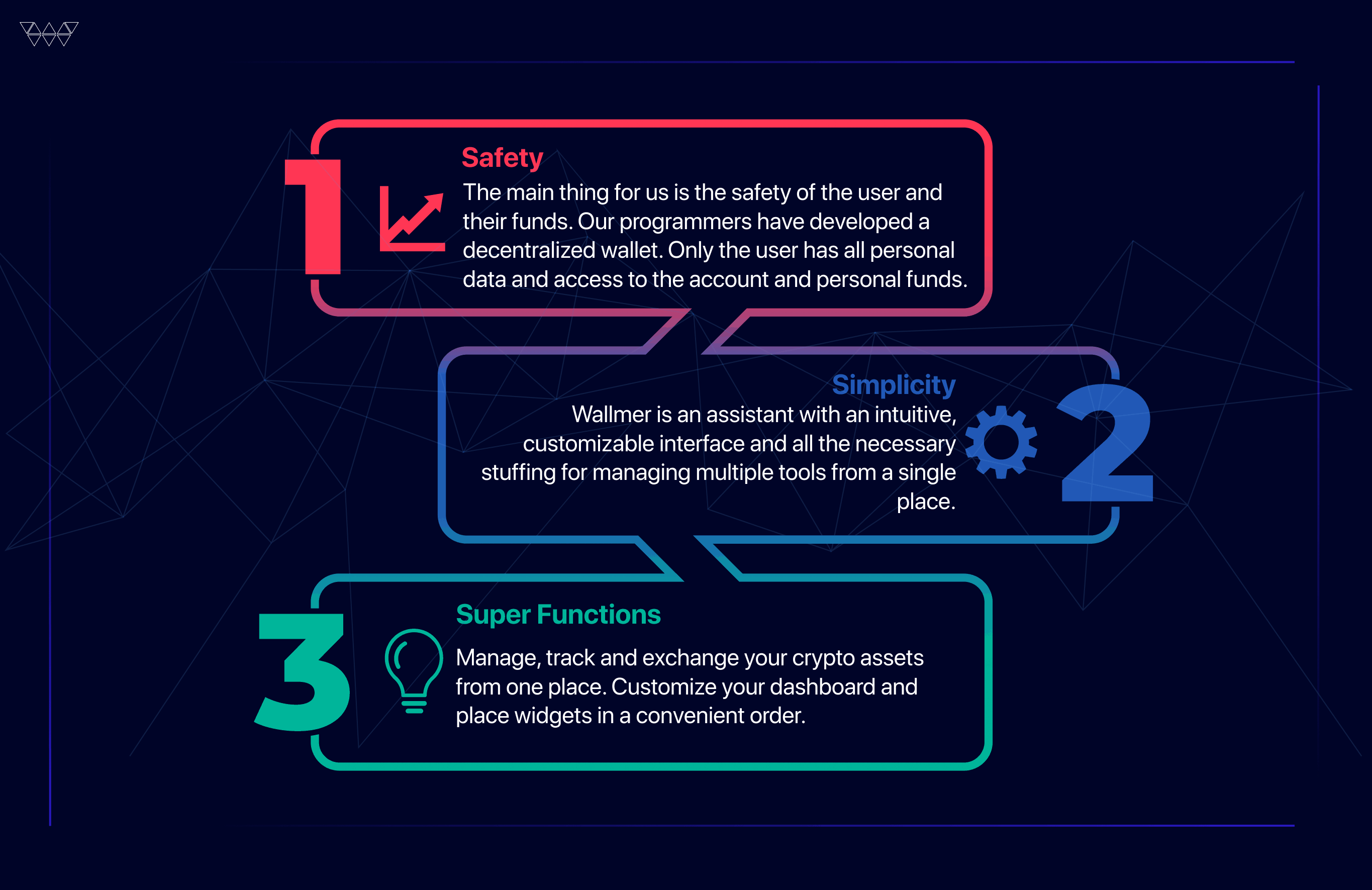 In the end we created a feature-rich cryptocurrency platform with clear purpose and simple functionality. Meet Wallmer!
Wallmer is what you need!
Wallmer is the future of cryptography which allows you to forget about additional services for the operate exchange and tracking of crypto.
Uncompromising Security.

Your private keys are under your control, with no access from us, ensuring maximum protection of your funds.

Effortless Crypto Transactions.

Wallmer offers a seamless, fast and secure buying and selling experience with the option of bank transfers or credit/debit cards.

Streamlined Management.

All your assets are managed in one place, reducing the need for multiple tools to manage your cryptocurrency portfolio.

Efficient Accessibility.

A well-organized dashboard provides instant access to your holdings, transactions, and balances, 24/7.

Intuitive and Inclusive.

Wallmer caters to both new and experienced cryptocurrency enthusiasts with its user-friendly platform.
Our mission
Our vision is to revolutionize the way people interact with cryptocurrencies. We aim to simplify the process of buying, selling, and managing digital assets by providing a user-friendly and streamlined platform. Our commitment is to deliver a secure and efficient solution for crypto management, enabling everyone, regardless of their experience level, to confidently navigate the crypto world.
Join us on our exciting journey at Wallmer and become a part of our vibrant and supportive community. Discover the world of cryptocurrencies and experience the ease and convenience of managing your digital assets with our user-friendly platform.