These days, only the lazy don't want to join the crypto universe. Digital currency is used by almost everyone, from schoolchildren to retirees. The number of blockchain customers increases by an average of 15-20% every year. As well, the number of cryptocurrency exchanges grows in the world every day.
Ask the most advanced user how many cryptocurrencies there are in the world right now. He is unlikely to answer. New coins and tokens are being generated every day. A coin dedicated to the popular "Squid Game"? You bet! SQUID is already right here. Coins representing love to dogs and cats? Meet Dogecoin and Monacoin. Garlic meme coin? Easy — Garlicoin. Moreover, even the 8th of March coin — Equi. You can't make all the money in the world, and it's simply impossible to mine all the crypto.
Some of these cryptocurrencies have proven to be failures. Some are staying afloat, while others are predicted by experts to skyrocket in just a few years. You might think that the main challenge for the user is which one to choose. But the main difficulty arises in the interaction between even the most popular ones.
Please wrap up for me some BTC, ETH & a couple of SOL to-go!
The cryptocurrency market isn`t standing still, just like everything in the digital ecosystem. Projects and start-ups are competing in scale, uniqueness and the "tricks" they are willing to provide to the user.
You have to admit that going every day to a coffee shop where your only choice is americano gets annoying after a couple of days. That's why you start searching for a place with a wider variety. Here you will get espresso, cappuccino or even tea if you are lucky. 
If a couple of years ago all crypto owners drank only americano and espresso (read: they used bitcoin and Ethereum). But now no one wants to limit themselves in their choices.
Cryptocurrency services are essentially the same as "coffee shops". To satisfy customer desires and stay popular, you have to expand the list of menu items (read: blockchains). That's exactly how multichain platforms appeared back in the days.
Read more: Custodial vs. Non-Custodial Wallets
How do multichain

cryptocurrency exchanges

work?
Multicurrency platforms support two or more networks, cryptocurrencies linked and allow transactions between different blockchains.
In practice, this means that you can take e.g.: an ERC-20 token and exchange it for Solana, Polygon created on BSC. Thus, you don't have to switch between different virtual networks when making an exchange. This approach allows fast exchanges between chains while minimizing volatility.
Multi-chain exchange is a simple way to swap all to all. Wallmer Exchange enables users to perform multi-chain swaps with a single click at the best rate.
CEX, DEX & Swaps
There are Centralized exchanges (CEX), Decentralized exchanges (DEX) and Swaps. Despite of it, they have a common goal of achieving high user satisfaction and promoting virtual trading. So let`s compare them.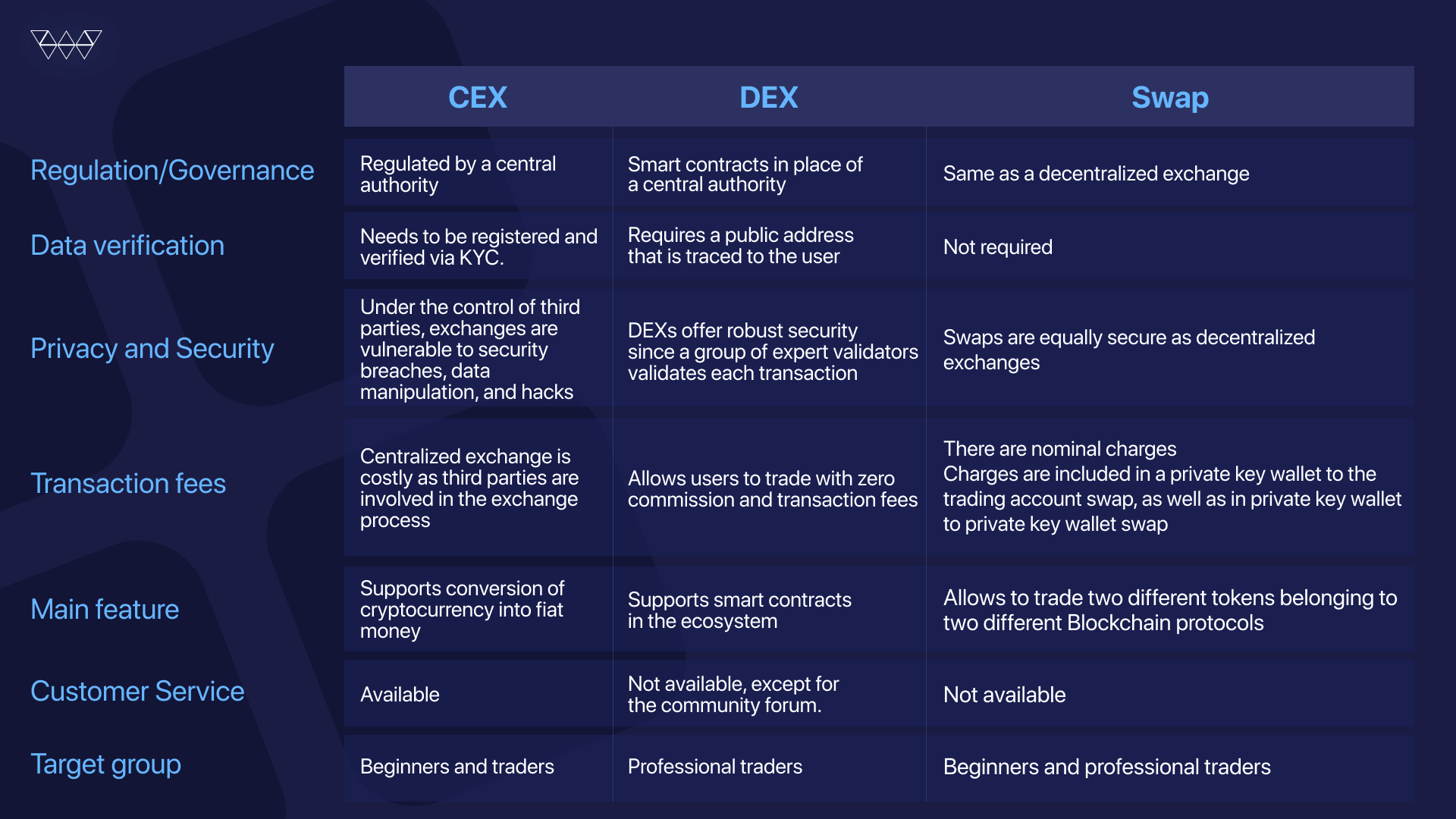 7 'pros' in favor of multi-chain cryptocurrency exchanges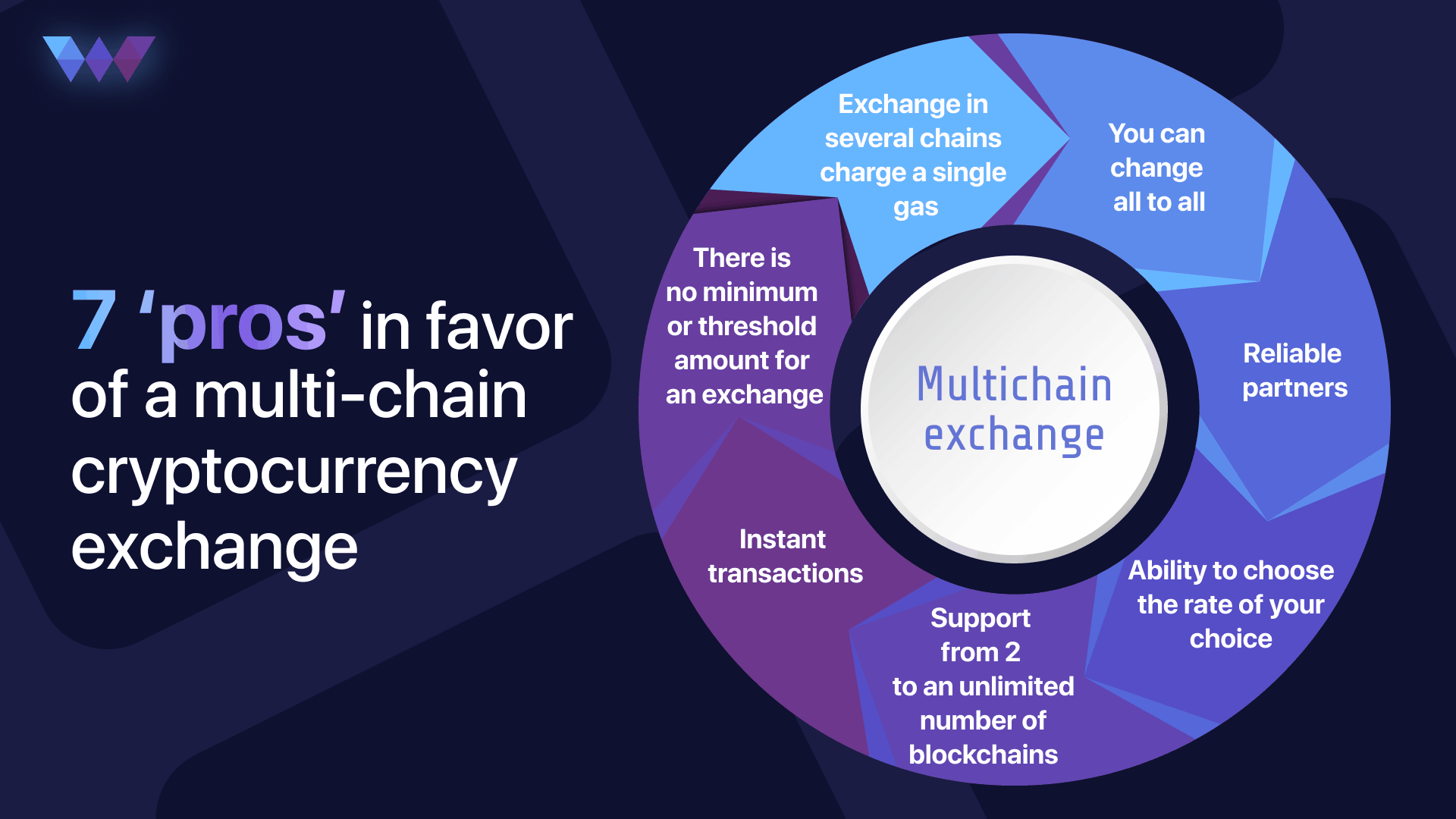 The cryptocurrency exchange is not just an opportunity to get a more profitable coin or token in the future. Most crypto users have made the exchange process a lucrative income that generates significant amounts of money. Perhaps, while you are reading this article, a person nearby is earning by exchanging TRX for SHIB.