How can I see the best exchange cryptocurrency rates in one place? Where do I track the prices of my portfolio in one convenient place? How to see upcoming important crypto events? All these tools and services are necessary for both an advanced user and a newbie. In today's article, we will talk about what online cryptocurrency monitoring is and why you need it. So, let`s go!
For confident work with cryptocurrency, you need to set up a wallet. You can read about cryptocurrency wallets here. Next, you will need a place for a decentralized cryptocurrency exchange or purchase, preferably at the best possible rate. Read more about multichain exchanges in this article. The next step is to monitor your portfolio effectively.
Cryptocurrency monitoring

:

what, why and how
Suppose you have already found a service to conveniently store your crypto. You also exchange coins and tokens at the best possible exchange rate. But the next challenge arises: you need a place where you can monitor your crypto and keep track of your portfolio.
However, you need to know, that most users have several cryptocurrencies in their portfolio, as well as several portfolios. And each of them can be stored in completely different places. For example, one on Binance, another one on the Ethereum network, and some of them in a centralized exchange.
So how to monitor the current exchange rate? Analyze your path in the cryptocurrency world? Keep up to date with upcoming events? In addition, in one place, so you don't have to switch between ten different services?  
There are various services for portfolio tracking that will help you with all these questions. But it tends to be inconvenient at least because such services are not supported by all networks. Then again you have to use several of these services to sum things up. Inconvenient, isn't it?
How to choose monitoring for the ordinary crypto user
Portfolio monitoring is an important part of managing any investment. Using a crypto portfolio tracker can help you evaluate your earnings in real-time. It allows you to view recent transactions and analyze profits & losses. Monitor your wallet, study stock history graphs & read the latest crypto news.
Let`s take a look at what opportunities crypto market monitoring gives you.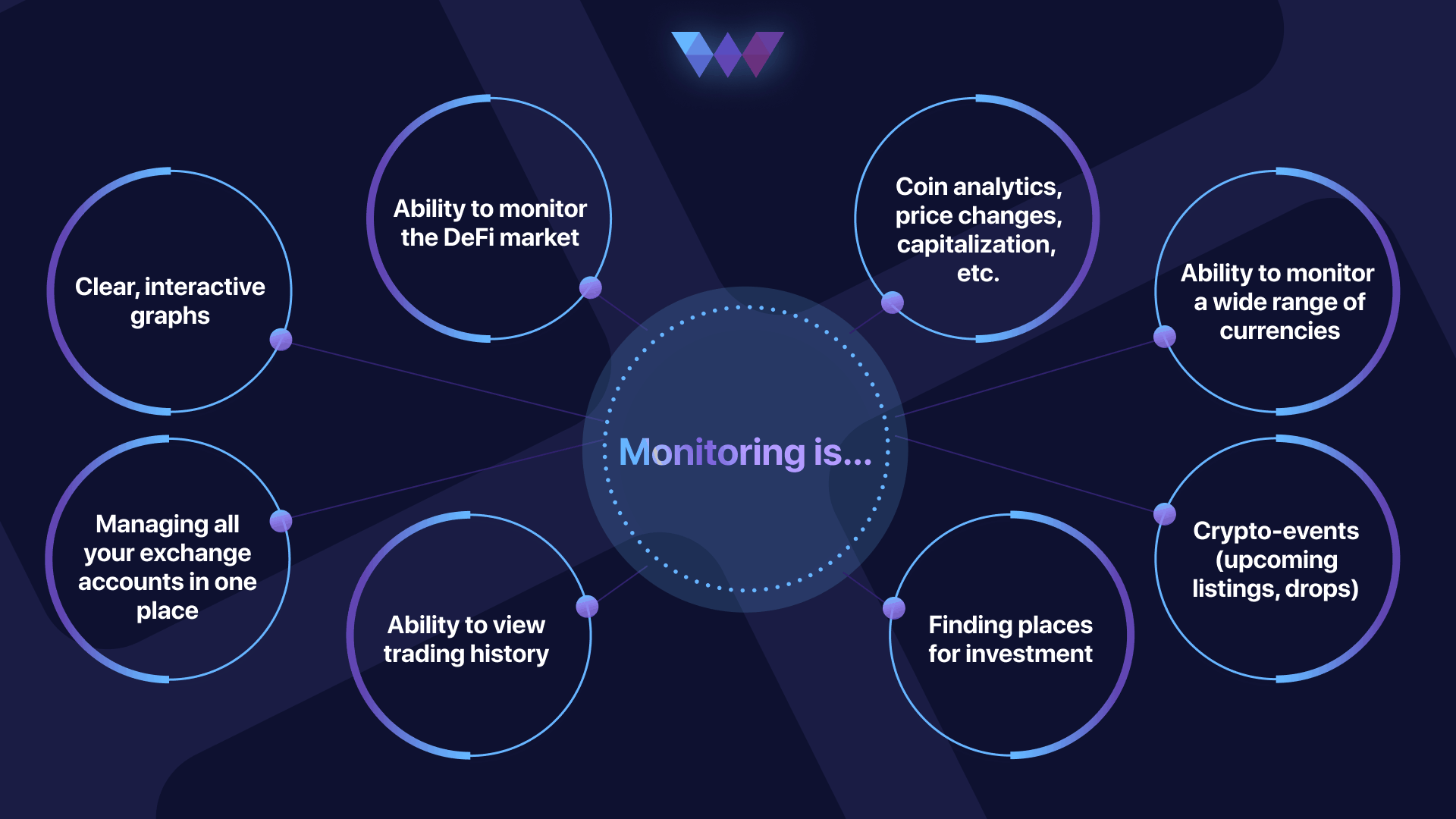 Different online crypto portfolio trackers have different feature sets, and none of the trackers does everything perfectly. Some may allow you to buy and sell coins but do not contain every coin you need. Others may let you purchase and catalogue tons of different options, but do not support tracking features. Finding a good service that meets all the customer's needs is a challenge. But it's a crypto-universe, which means nothing is impossible.